V Busy with Doreen Creede of Style Maniac
Encouraging babes to "use the good china," Doreen Creede is a proponent for all things fashion. Enjoying the little moments and planning like hell, this Jill-of-All-Trades is a Philly powerhouse. From filmmaking to creative consulting, to everything in-between, this woman is on a mission to bring attention to the city of sisterly love. She'll also be speaking at our NYC Tour stop. We stan Doreen forever and you can learn more about her here.

Hey, Doreen. Tbh, you kind of do it all and are one v busy lady. Can you give us a quick overview of all the plates you're currently spinning? What do you do?
Write, design and produce for print, web, film, and TV. Consult on strategy and content for emerging fashion brands and creative businesses.
Ongoing, I'm the creator and author of the website Style Maniac, which inspires readers with lush lifestyle features, behind-the-scenes interviews and easy ideas on how to live with joy and style every day. A few years ago, I was a Brand Ambassador for REALM Fine + Fashion Jewelry; now I'm working with founder /designer Ann King Lagos as a creative consultant and strategist for this disruptive (and gorgeous!) jewelry brand.
Along with esteemed designers Emil DeJohn and Joi Denenberg, I'm producing the fashion documentary Cheesesteak Chic: How Philadelphia Influenced American Fashion. With this project, we aim to both shine a spotlight on the famous designers, coveted brands and influential icons who have called Philly home, and also encourage citizens of every city to discover and celebrate their own surprising homegrown stars.
We love a good Philly moment. Thanks for that! Btw, your doc sounds like a great project. Can't wait to see it. Speaking of Philly, what do you love most about creative womxn there and what dreams or aspirations do you have for the community?
Shine a spotlight on the incredible creative talent in Philly. Having, over the years, co-founded three organizations to support creative businesswomen, I know that having trusted friends and colleagues you can go to for support, ideas, collaborations and just a chat over a cocktail is essential. As a freelance creative it can get lonely – you don't have the support of a team like you do in the corporate world. It's reassuring to know that others share what you are facing – the challenges as well as the successes.
As for Philly women, I love that we're truly a diverse and down to earth bunch. Women in this town don't really follow trends or types – the women I know truly own their individual style, both in how they approach their work and in how they dress.
What would you say is your particular niche or specialty?
Producing elegant results no matter what the budget. Whether that's a film set, an event, a wardrobe or a website, I have a knack for using the resources at hand to make something look really good.
As a designer, you have a certain eye; as a writer you have a certain voice. It's hard to know where that comes from. But my approach to a project definitely comes from being half an organized, practical businesswoman and half a creative dreamer.
The dreamer sparks the ideas. Usually when I start a new project a picture pops into my head, like a little movie, and I know what I want the end result to look like.
Then I draw on the organized side. A lot of what I do is self-taught and the knowledge comes from doing a tremendous amount of research – reading anything I can find on the topic, shopping at sources I've curated over many years, interviewing experts on the subject. I take all of that, mull it over, think of different ways to approach the challenge. From there I come up with the big picture -- an overall strategy. Next, with the help of many many lists, I break that big picture down until every small detail is addressed.
But there can still be that moment of panic on location or at a client's site where I think, "How on earth am I going to pull this off?" And that's when I have to trust that I've done all the prep it was possible to do and now it is again time to let my brain go and the creativity flow. People call it being "in the zone" and it is true whether you are an artist or an athlete: in a way time stops, ideas come, sparks fly and magic happens.
Or to put it more succinctly: "Plan like hell, then let it go."
Put that phrase on a notebook. That's seriously amazing. Speaking of creative obstacles, what are some challenges womxn like yourself face in your industry? Any sage advice you can give folks pursuing a similar path?
Challenges – um, how long do we have to talk?! So, one thing I have learned after producing many projects and founding several businesses is that every new venture starts out filled with frothy fabulousness: it's exciting, it's glamorous, it's unicorns and rainbows, everyone loves each other, everyone is 100% on board. Then a bit later reality sets in and you realize that yes this is a creative endeavor that feeds part of my soul, but it is also a business. And that means you have to deal with a lot of stuff you might not love. Like: too-small budgets, too-short deadlines, difficult situations, conflicting opinions. It can really squash the joy out it all if you let it.
How to get around this? You can't let it. You have to realize that the business end is part of every single project. There can actually be creativity in making a budget work and a lot of satisfaction in navigating a tough situation. And even if there is not, it is a means to an end. Doing this dull or difficult stuff is what allows you to do the cool and creative stuff.
Totally agree. So from your perspective, what's the landscape like for womxn in the blogging world vs. film & tv?
Blogging: women rule. TV & Film: not so much. One of our goals with Cheesesteak Chic is to help change that. What holds women back? A reluctance to ask for the money--to ask for what we are worth. This is one I still struggle with myself.
Anyone womxn in your field you are currently inspired by?
Jenn Hyman and Maureen Sullivan of Rent the Runway are radically transforming not just the way we shop but the entire ecosystem surrounding our wardrobes – emotion, elitism, finances, self-esteem.
Couldn't agree more. We're low-key obsessed with their brilliance too. Whew! Okay. One more question. For folks interested in seeing you at Tour. What will you be speaking about?
How fashion can be a source of personal power (as well as being a lot of fun). Melding creative sensibility with business sense. The challenges of living a creative life. How outstanding talent can come from unexpected places. Plus … what do you want to know?
Okay, I lied. Anything, in particular, you are looking forward to at Tour?
Seeing how you and Myah bring your magic touch to disrupting what can be a rather dull genre.
Come see Doreen at Pretty Thing Tour 2019 and use checkout code "DOREENCREEDE" for $20 off your General Admission ticket.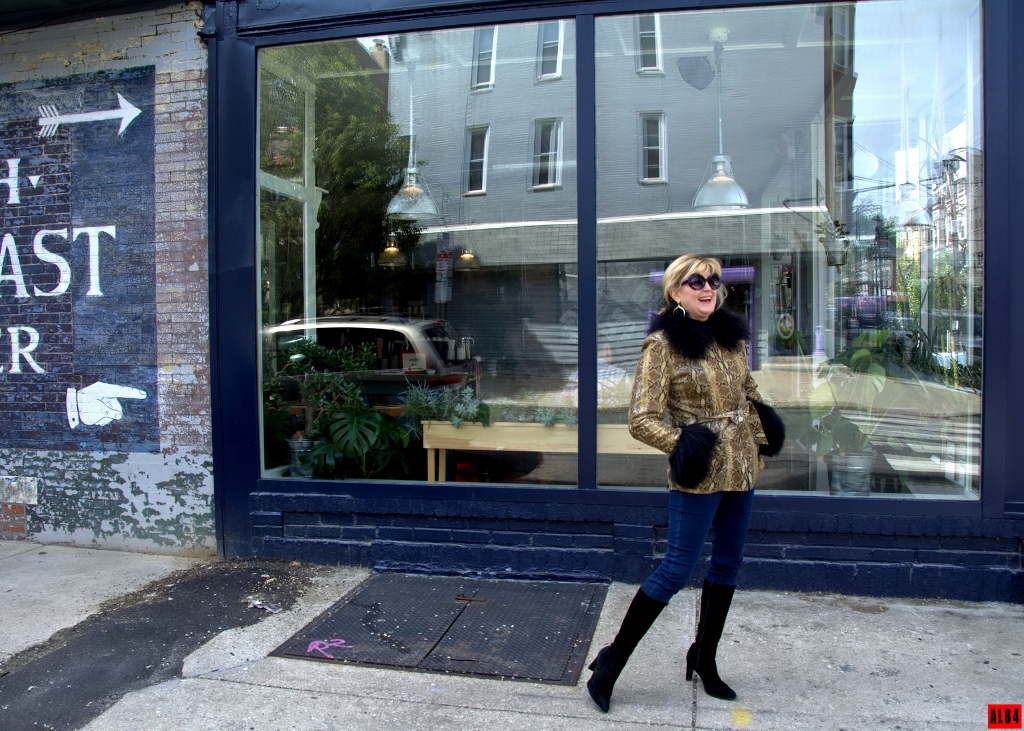 Obsessed? Same. Learn more about Doreen: